Home > Publications > IRIZ Studies > IRIZ Studies #1

| | |
| --- | --- |
| | IRIZ Studies Vol. 1 |
Choix d'études sur le Tch'an par Paul Demiéville, édité et traduit par

Hayashi

Nobuaki

(in Japanese)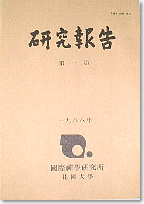 435 pages
Dimensions: 273 mm

x

193 mm
Date of Publication: June 8, 1988
ISSN: 0915-4434
Kyoto: International Research Institute for
Zen Buddhism
[Out of stock]
This is a collection of Japanese translations of articles by Paul Paul Demiéville, the renowned French sinologist and Buddhist scholar.
Contents
Avant-propos (

Yanagida

Seizan)





1. Le miroir spirituel





2. Le bouddhisme et la guerre





3. Deux documents de Touen-houang sur le Dhyāna chinois





4. Vimalakīrti en Chine





5. Manuscrits chinois de Touen-houang à Leningrad





6. Récents travaux sur Touen-houang





7. Les Entretiens de Lin-tsi





8. Le Recueil de la Salle des patriarches





9. Le Tch'an et la poésie chinoise





10. Appendice sur "Damoduoluo"




11. L'introduction au Tibet du bouddhisme siniseés d'aprés les manuscrits de Touen-houang




12. Stance de la fin





Post-scriptum du traducteur





Bibliographie Dr. Paul Demiéville





Index (fascicule annexe)


Last Update: 2002/11/01