Home > Publications > IRIZ Studies > IRIZ Studies #2

| | |
| --- | --- |
| | IRIZ Studies Vol. 2 |
The Lankāvatāra Mahāyānasūtram Rendered into Modern Japanese with Studies

by

Tokiwa

Gishin

(2 vols; in Japanese)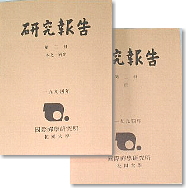 Dimensions: 273 mm

x

193 mm
Vol. 1 (Text & Studies, 376 pp.); Vol. 2 :(Notes & Reference List of Sanskrit Expressions, 211 pp.)
Date of Publication: Dec. 1, 1994
ISBN: 4-938796-15-5
Kyoto: International Research Institute for Zen Buddhism
[Not for sale]
Volume 1 of this study contains a foreword by Prof.

Yanagida

Seizan and a preface by the author, followed by a modern annotated Japanese translation of nine chapters of Prof.Bun'yu Nanjô's famous reconstruction of the Sanskrit

Lankāvatāra sutra

.
Part 2 contains ten lectures by the author, originally presented in English at Leiden University in the Netherlands (1993).
Volume 2 contains copious notes pertaining both to the translation and to textual questions (Sanskrit text, Chinese renditions).
The camera-ready copy of these

Studies

was produced at the IRIZ through the efforts of

Murakami

Shun.
Contents



Vol.1




Foreword (

Yanagida

Seizan)





Preface





I. Text




Chapter 1: Solicitation by Rāvana for the Buddha to Teach in Lankā



Chapter 2: All the Thirty-six Thousand Teachings of the Buddha Collected



Chapter 3: Non-Permanency



Chapter 4: Attaining Nirvāna



Chapter 5: Taking the Tathāgata either as Permanent or Impermanent is Wrong






Chapter 7: The Self-Transformer



Chapter 8: Abstaining from Eating Meat






(Chapter 10: Verses, not translated here)




II. Studies





Thirteen Lectures on the Lankāvatāra sūtram




Vol.2




Notes





Reference List of Sanskrit Expressions


Last Update: 2002/11/01