Home > Publications > IRIZ Studies > IRIZ Studies #4

| | |
| --- | --- |
| | IRIZ Studies Vol. 4 |
A Study of Tang Period Chan Thought

by

Murakami

Shun

(in Japanese)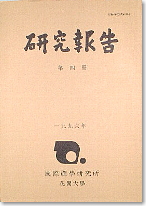 657 pages
Dimensions: 273 mm

x

193 mm
Date of Publication: Nov. 13, 1996
ISBN: 4-938796-30-9
Kyoto: International Research Institute for
Zen Buddhism
[Not for sale]
This work, published the year after the unexpected death of the author,

Murakami

Shun, in 1995, constitutes an incisive inquiry into Chan thought and its relation to Chinese Buddhism. The work was originally intended as the author's doctoral thesis.
Contents
Foreword by

Yanagida

Seizan





1. Early Chan Thought and Chinese Buddhism




Chapter 1: The Problem of Buddha-Name



Chapter 2: Around No-Mind



Chapter 3: Zhiyan's Thought on Becoming a Buddha



Chapter 4: From "Consciousness-only" to "Mind-only"




2. The Development of a Chan's Identity




Chapter 1: Zhaozhou's Chan



Chapter 2: Zhaozhou and the Inscription on Faith in Mind






Chapter 4: Yunmen and Nanyang Huizhong




3. A Study of the Ensō (Chan Circle)







Chapter 1: Nanyang Huizhong and Danyuan Yingzhen



Chapter 2: Guishan and Yangshan (fragment)




Postface by Urs

App

(in English)







List of Publications authored by

Murakami

Shun

Last Update: 2002/11/01